SPECIAL ANNOUNCEMENT// LIVE ON THE GREEN IS BACK! CELEBRATE NASHVILLE'S FAVORITE FREE MUSIC FESTIVAL PRESENTED BY LIGHTNING 100 WITH SHOWS THURSDAYS (AUG 11, AUG 18, AUG 5, SEPT 1) FINISHING UP WITH A THREE-DAY WEEKEND FESTIVAL SEPT 1-3 FEATURING SOME OF THE BEST NATIONAL ACTS LOCAL ACTS. FOR MORE INFORMATIION OR TO PURCHASE VIP TICKETS, VISIT THE
LIVE ON THE GREEN WEBSITE
AND CHECK OUT LLN COVERAGE FROM PAST FESTIVALS HERE
---
---

ALL SUMMER LONG//
MUSIC & DANCE
ELECTRIC WESTERN PRESENTS: KEEP ON MOVIN' MOTOWN MONDAYS DANCE PARTY AT THE 5 SPOT
8 off 8TH MONDAY NIGHT SHOWCASE AT MERCY LOUNGE/HIGH WATT
COACH & MATT FRICTION PRESENT: SCHWING 90'S DANCE PARTY AT 308- MONTHLY
EMO NIGHT NASHVILLE - MONTHLY, VARIOUS VENUES
ART & CULTURE
1ST SATURDAY ART CRAWL DOWTOWN; FIRST SAT OF EVERY MONTH 6P-9P
BORO ART CRAWL; SECOND FRI, BI-MONTHLY 6P-9P





---
---
LOVE LOCAL INTERVIEWS// LITTLE PAWS

BRANDON SAT DOWN WITH LITTLE PAWS' RAYGUN, BLAKE AND SARAH AND TALKED OUTSIDER ART, RIOT GRRRL LIFE BEYOND THE MUSIC AND WHY THEY'D RATHER JUST HAVE FUN WITH IT.

---

---

---

ROCK AND ROLL AT FORT NORTON//
BRINGING THE HOUSE SHOW BACK IN STYLE



THE HOUSE SHOW MAKES IT'S TRIUMPHANT RETURN THANKS TO THE HOUSEMATES OF

FORT NORTON,

A MUSICIAN'S HOUSE AND OCCASIONAL MUSIC VENUE ON THE EAST SIDE WITH ALWAYS IMPRESSIVE LINEUPS, OPEN MIC SLOTS AT EACH SHOW AND A LATE NIGHT LIVING ROOM DANCE PARTY. WE CAUGHT

THE MOXIES, JENNIFER HALL, LAURYN PEACOCK, GRACELAND,

AND

MILK PEOPLE

AT FORT NORTON FOR A FREE SHOW, DRUNK CHESS AND A SCAVENGER HUNT FOR MERCH. CLICK THROUGH FOR MORE.

---

---



JUST PASSING THROUGH//

TOURING ACTS VISITING NASHVILLE

FIND OUT ABOUT TOURING ACTS VISITING NASHVILLE
MUSIC, THEATRE, COMEDY & MORE



FESTIVAL SEASON IS UPON US!
​THE ULTIMATE GUIDE TO EVERY US MUSIC FESTIVAL. EVERY. SINGLE. ONE.

WE'VE GOT THE LOWDOWN ON LINEUPS FOR EVERY U.S. MUSIC FESTIVAL BIG AND SMALL SO YOU CAN MAKE YOUR SUMMER FEST EXPERIENCE THE BEST IT CAN BE. FROM SHAKY KNEES TO PILGRIMAGE TO BIG EARS AND BEYOND, HERE'S EVERYTHING YOU NEED TO KNOW ABOUT FESTIVAL SEASON LOCALLY AND ACROSS THE COUNTRY

.

---

---

---

EAT DRINK & BE MERRY W/
LOVE LOCAL NASHVILLE

EATS AND TREATS IN NASHVILLE

BRUNCH SPECIALS:

HAPPY HOUR(S):

---
SPOTLIGHT//
PAST FEATURES
All the way from Austin, TX come psychedelic rockers

The Bright Light Social Hour

following the release of their sophomore album

Space Is Still the Place

playing High Watt on March 31 with

Walker Lukens get tickets here

read all about it here.

---

ARTIST

: JEFF BERTRAND

We let our dear friend and talented Nashville-based artist Jeff Bertrand take us to lunch at Mitchell's Deli and show us around his studio to find out what he's been working on, plus some advice on how to be a smart about your art.

Read about it here.

---

---

BAND

:

Orlinda

We had coffee with the boys of Orlinda where we heard what it was like making music with a new lineup, full of family. As a young band in the Nashville scene, we learned what they hoped for the future of their music while still embracing the influences of the past. Read the interview

here.

---

PHOTOGRAPHER

:

JOHN BROWN

We asked our friend, photographer John Brown to take us to coffee at his favorite spot, Ugly Mugs and talk to us about life and what it means to follow your dreams. Read the interview

here.

---

---

FESTIVAL

: PILGRIMAGE MUSIC AND CULTURAL FESTIVAL// FRANKLIN, TN

We were honored to attend the first ever Pilgrimage Music and Cultural Festival just south in Franklin for a beautiful two-day, daytime festival that brought acts like Willie Nelson, Weezer, and Wilco along with local darlings, el el, Holly Williams, and Cage the Elephant and many more. Approaching the second year of the festival in the Fall of 2016, you can revisit coverage from the inaugural year

here.

---

MUSICIAN:

Lauren Strange

​Brandon caught up with ultra-badass Lauren Strange, playing with her band The Pretty Killers for our special H8 off 8th// presented by Nashville Rage at Mercy Lounge. Read the interview

here.

---
Powered by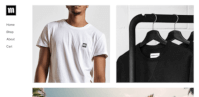 Create your own unique website with customizable templates.